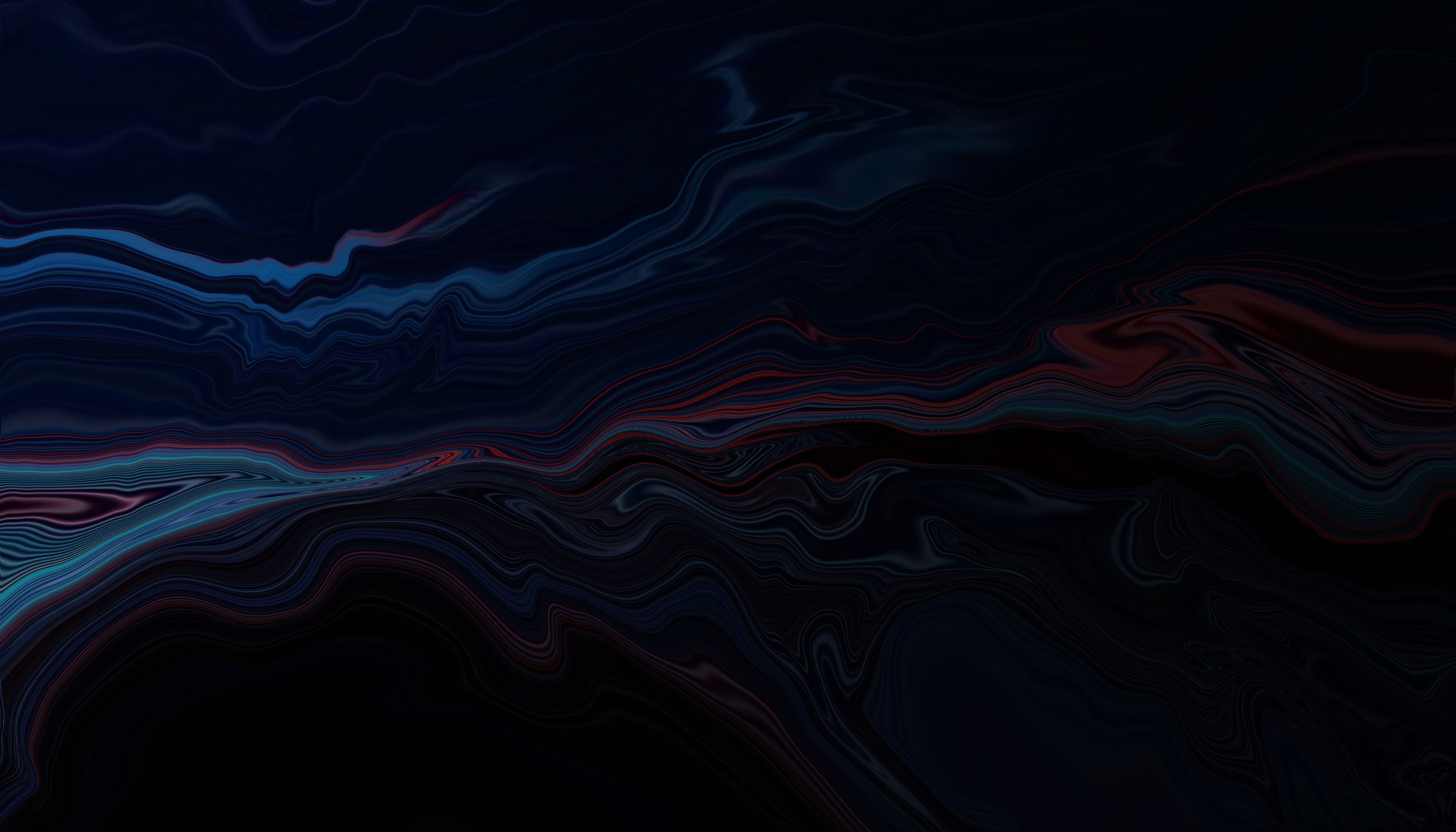 Schedule a Consultation and Get a FREE Yeti Rambler!
Please watch the FLEXCORE Screw Pumps for Lube Oil and Hydraulic Applications! Go To Webinar
Flexible, Engineered Leistritz Solution Patented Easy-To-Change Cartridge Technology
FLEXCORE is a flexible solution for installation in new and existing piping systems. It supports a broad range of applications including lubrication, fuel oil & burner services and hydraulic systems. Thanks to the unique modularity of the housing and the patented cartridge element, it is flexible for any installation position and standard. It is configurable for many different installation for flange orientations in 90° increments. FLEXCORE provides a higher flow rate at a smaller size. Extremely robust, virtually wear-free, and uniquely easy to maintain. It comes in steel and ductile iron options.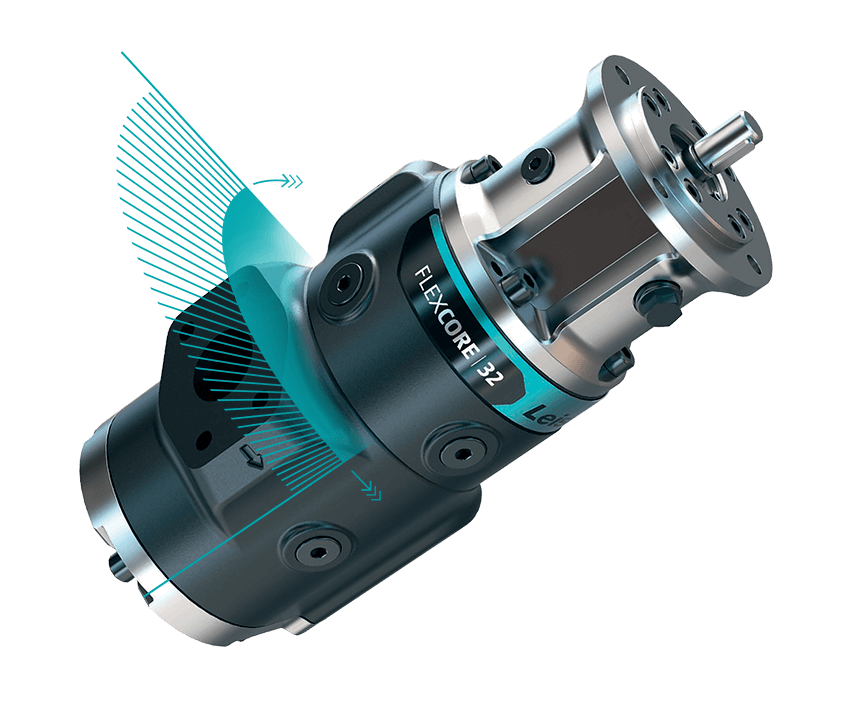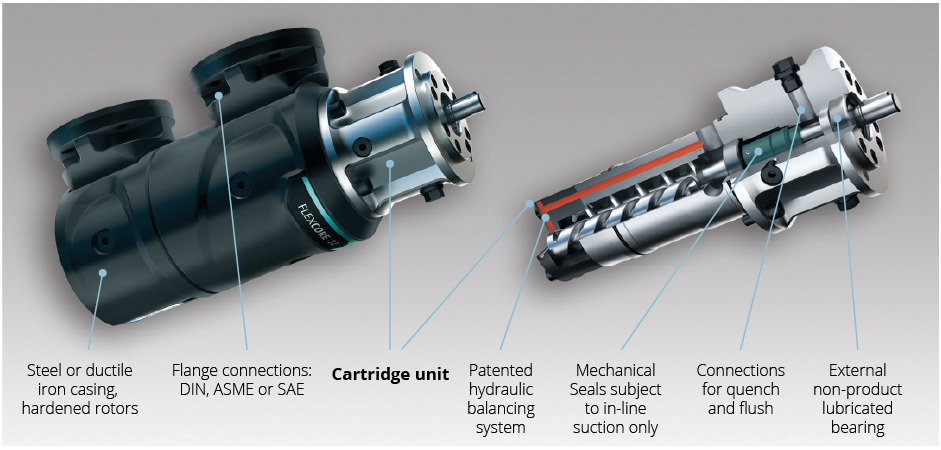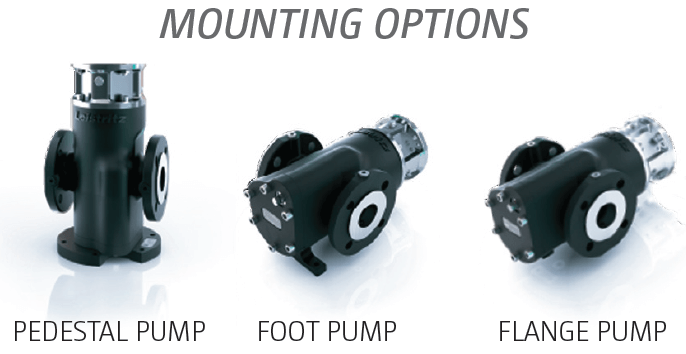 Benefits:
Configurable for many different installations with flange orientations in 90° increments.
Patented Easy-To-Change Cartridge Technology ensure maximum uptime.
High-performance features include hardened rotors and a patented hydraulic balancing system.
Meets API auxiliary service applications.
Available from stock
Flexible solution for new and existing piping
Available in iron or steel
Higher flow with a smaller footprint
Due to patented internal balance line, there is a significant increase in service life
| FLEXCORE SIZE | 25 | 32 | 38 | 45 | 52 | 60 |
| --- | --- | --- | --- | --- | --- | --- |
| Viscosity (cSt) | 1.1-2500 | 1.1-2500 | 1.1-2500 | 1.1-2500 | 1.1-2500 | 1.1-2500 |
| Operating Temperature (F) | 14° – 356° | 14° – 356° | 14° – 356° | 14° – 356° | 14° – 356° | 14° – 356° |
| Max Suction Pressure (PSI) | max. 116 | max. 116 | max. 116 | max. 116 | max. 116 | max. 116 |
| Differential Pressure (psi) | 14.5 – 580 | 14.5 – 580 | 14.5 – 580 | 14.5 – 580 | 14.5 – 580 | 14.5 – 580 |
| Flow Rate (gpm) | 1.8-13 | 4-26.4 | 7.4-47 | 12-78 | 20-97 | 29-149 |
| Size (SC) | 5.5 x 14.4″ | 5.5 x 14.4″ | 7.5 x 17.8″ | 7.5 x 17.8″ | 9 x 22.5″ | 9 x 22.5″ |
| Weight (SC) (lbs) | 48.5 | 48.5 lbs | 112.4 | 112.4 | 216 | 216 |
| Size (CC) | 5.5 x 13.5″ | 5.5 x 13.5″ | 5.9 x 18.1″ | 5.9 x 18.1″ | 7.3 x 22.5″ | 7.3 x 22.5″ |
| Weight (CC) (lbs) | 37.5 | 37.5 | 68.3 | 68.3 | 136.7 | 136.7 |
*All sizes come in steel (SC) and ductile iron (CC). Download Flexcore Selection Table Download Brochure Download Brochure (Spanish) Download Brochure (Portuguese)